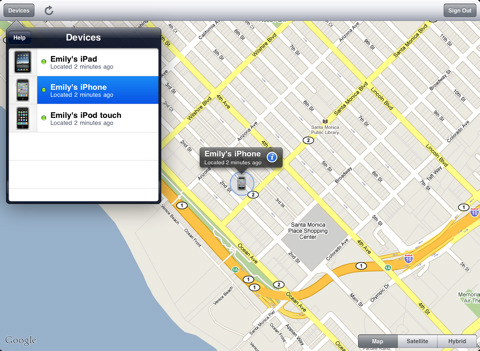 Set up the free Find My iPhone service to keep tabs on any device
That moment you realise you've misplaced your phone, tablet or laptop can be a nightmare. But, with Apple's Find My iPhone service (it's called that, but it works on iPad and Mac too), you can – in most cases – track down where it is. Using Wi-Fi networks for all devices, and phone signal and GPS data for mobile devices, your Apple gadgets can pinpoint their location almost anywhere in the world, and report it back to you, so long as they can connect to the internet in some way. You can look up your device's location using a web browser on your Mac, or the Find My iPhone app on iPad or iPhone. If your device's location is available, it's then possible to make it play a sound (to help you find where in your house it's got to), display a message on the screen (so that whoever finds it can contact you) or even wipe its contents (if you decide it's gone for good) – though even then, it can't be reactivated without information from you. You do need to make sure thieves can't access it, though, so set up a passcode on iOS devices or a password on Macs
Set up and use Find My iPhone
1. Enable the service
To start, you need to enable iCloud and switch on the Find My iPhone service. On iOS, this is in Settings > iCloud, with a switch labelled Find My iPhone/iPad. On the Mac, go to System Preferences > iCloud and sign in. Scroll through the list on the right, and check Find My Mac
2. Find your lost device
If you do misplace your device and need to locate it, open the Find My iPhone app on an iOS device. Alternatively, go to icloud.com on any computer, sign in, click Find My iPhone and wait a few moments as it tries to locate your Macs, iPad, iPhone or iPod touch
3 Device list
If you've got more than one device linked to your iCloud account, click All Devices to see them all. In the entry for your missing gadget, look for a green dot next to it, which indicates its current location is available. Tap or click its name to see the location on a map.
4 Total wipeout?
Click the dot on the map or the name in the list and you get options to play a sound or erase the device – but use the latter only as a last resort if it's been stolen, because once you erase it, you'll no longer be able to track its location. Using Lost Mode is a better option.
5 Lost Mode
Tap this and enter a phone number so the finder can ring you. Tap Next, enter a message and tap Done. If your device is offline, it's locked next time it connects, and your message shows on its screen. When you get it back, unlock it with your existing passcode.
Notify me when found
If your lost device isn't connected to the internet when you try to locate it, you needn't keep checking back manually. Just tap or click 'Notify me when found'. You then receive an email when the device is located, plus a pop-up alert on any other devices linked to your iCloud account.